KABISA Energy Drink and Shell Petrol Stations Launch a "Don't drink and drive" Campaign in Kenya
KABISA Energy Drink and Shell petrol stations join their forces to launch a powerful social campaign "Don't drink and drive" in Kenya.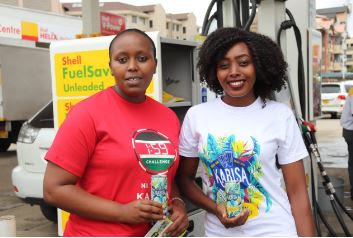 A rapidly expanding energy drink brand KABISA, imported from Poland, entered the Kenyan market in 2018, and aims to end the excessive alcohol consumption among the drivers. The brand joins forces with another multinational brand Shell in order to bring effective change to the habits of drivers across the country.
If there is any hesitation with whether this sort of initiative is needed – it's enough to look at the reports. According to the survey by the National Transport and Safety Authority, 3.112 people lost their lives on the roads in Kenya as of 18 November 2019. Comparing to the 2.727 who perished in 2018, indicates a huge increase of more than 14% in the number of  deaths of road users. A significant part of accidents was caused by drivers under the influence of alcohol. These statistics speak for themselves. Actions to overcome this situation are necessary.
KABISA Energy Drink Kenya and Shell decided to work together on that growing problem. Both brands got involved in the promotion of their new campaign "Don't drink and drive" – the initiative aims to make drivers aware of the consequences of drunk driving. The campaign consists of information online as well as offline activations on the Shell petrol stations performed by the KABISA personnel.
The director of KABISA Energy Drink Kenya, Mr. Wycliffe Saduma, expresses his strong enthusiasm about the new initiative:
"A year after launching KABISA Energy Drink in Kenya, we decided to increase the number of our retail points. Shell seemed like a perfect choice to establish a partnership and to promote  the «Don't drink and drive» campaign. This way we can support overcoming a very important issue, we believe that making KABISA easily accessible for people who are on the move and on the road will help to significantly reduce the number of drunk drivers."
Last year Kenyans had a chance to taste KABISA Energy Drink for the first time. Last autumn Key Brands International started distributing that innovative beverage across Kenya and this October the company partnered up with Shell. Shell is one of the most frequently chosen petrol station brands in the world, which provides a perfect exposure to new potential customers. It's also the most efficient method to promote the "Don't drink and drive" campaign – this way, instead of choosing alcohol at the gas station, drivers are able to reach for KABISA Energy Drink and drive safely.